Run Trains on your Drawing...

Enter a whole new arena of layout design...

Explore train operations, change switches, uncouple cars, check clearances, all with highly accurate Vector Graphics. Our Runrail railroad simulation gives you access to a whole new area of layout design.

Now you can run a train up that siding and check the capacity. Zoom In on that critical curve to make sure you clear cars on the inside track. This is a design utility to let you simulate basic operations on your railroad. It is not a game. You can interactively test most of the operation features of your layout as you design.

Runrail train simulator lets you operate two trains on what you draw. You can set out cars and assemble trains in a real time simulation that works just like your models. Your current train setup is saved with the drawing so next time you open the document the setup is restored.

Open the 3D View to view the trains from outside the train or get in the cab of either train.

Runrail can run on any object you draw with Cadrail. You specify the size of the train cars, follow a few simple rules for creating turnouts and whalaa...

This is a simple simulation with basic operational features, it is not a game.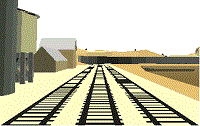 Runrail 3d Cab View
(above) of
Sample Layout5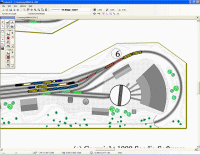 Runrail Screen with Trains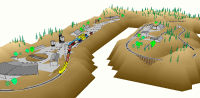 3d View of the above yard.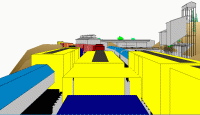 View looking back from
the cab.